DOWNLOAD SITE FOR
The Bible Missionary (v. 1.3)


BIBLE MISSIONARY is a freeware Bible program with very simple and user-friendly functions. You can design contents and appearence after your own taste,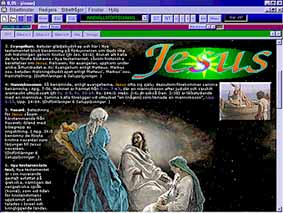 and chose freely among Bible translations and Bible facts.

* Four translations can be shown parallel, the hebrew and greek texts can be compared with modern translations, and you can connect biblical encyclopedia to the Bible-texts and reach them with single or double clicks.
* The Bible Facts can be illustrated with images from your own harddrive or with images & maps fetched for free from this web-page.
* Bible-texts can be saved and edited in html-format for publishing on the internet.
* You can create your own notes, learn Bible verses by heart through a memorization-program, and pitch mannacorn automatically or manually.
* The program can "read" the Bible for you, and it will search through the entire Bible in seconds, after one or several words, and then you can save the result on your harddrive.
* You can even "domesticate" the program by easily translating it's interface into your own language.
* With the Bible Printer it is even possible to print out Bible parts in different languages, in bundles ready to fold and stitch.
...

Click here if you want to download the program right now.
Carry-on downwards for more information.


NO "UNLOCKS" OR ENCRYPTED FILES:

BIBLE MISSIONARY is, unlike many other Bible programs, "open", that is, with a little skill, users can include their own obtained Bible translations, encyclopedia, images, maps, soundfiles, etc.
With these capabilities you can design the program practically as you wish, so that you'll get as much as possible spiritual use of it.
___


CONTENTS & FUNCTIONS:

Bible Translations:


A big number of bible translations and versions in different languages can be downloaded and installed in the Bible Missionary.
Up to four versions can be shown parallel on the screen.
.
...

Bible Facts:
Several Bible Commentaries and Bible Dictionaries can be downloaded from this website. Ability to include other encyclopedia.
...

Footnotes & Commentaries:
Create/edit personal footnotes
...

Search-Functions:
Chose book, chapter and verse in the Bible
Search words in dictionaries (doubleclick in the Bible-windows)
Search words in Bibles & dictionaries (dialog-box)
Paralells (single-click in the Bible-text)
Bible-notes (click on verse-number in the text)
Save/edit search-results in html-files
...

Other functions:
Image-Viewer for images, photos, & maps
Ability to include your own images/photos/maps for use in Bible facts
Bible-memorization
MannaCorn
Automatic Bible Reader
Printout
Notepad for common txt-files
Html-editor with WYSIWYG-function, that is, you can make simple internet-pages without knowing html-coding
History-function 100 bible-pages backwards/forwards
Open as many new bible-windows as you want
The program's interface (menus & buttons, etc) can be translated to the user's own language
...

Skins:
All Bible-and Bible-facts windows are in html-performance (like internet pages). Individual "skins" for text-colors, font-sizes, font-faces, background color and background-images can be adjusted.
Furthermore your own images/photos can be placed on the program's workspace.
...

Bible Printer:
The Bible missionary is equipped with a program for printing of Bible booklets. You can chose a Bible book, adjust fontfaces, edit a cover, and then the program will print out the book in a bundle of sheets ready to fold and stitch (assuming you have a printer).
The prints can be made in any of the languages that are available for the Bible missionary.
___


System requirements:
PC, pentium 100-processor (preferably more), 64 mb ram-memory, at least 20 mb available on the harddrive, Windows 98 +, Internet Explorer 5.5 +.
___



News in version 1.3:
This is a minor update with a few bug fixes and design changes. And the program now is freeware.
___


DOWNLOAD AREA

Filesize compressed: 4 MB. (The download takes about 15 minutes with a 56k-modem).
BIBLE VERSIONS
NOTE: At least one of these Bibles are needed to run the program:

| | |
| --- | --- |
| KING JAMES 1611 BIBLE | Freeware, Public Domain |
| GERMAN 1545 BIBLE | Freeware, Public Domain |
| SPANISH 1602 BIBLE | Freeware, Public Domain |
| SWEDISH 1917 BIBLE | Freeware, Public Domain |
| NORWEGIAN 1930 BIBLE | Freeware, Only for personal use |
| DANISH 1933 BIBLE | Freeware, Only for personal use |
| FINNISH 1938 BIBLE | Freeware, Only for personal use |
| FRENCH 1910 BIBLE | Freeware, Public Domain |
| PORTUGUESE 1819 BIBLE | Freeware, Public Domain |
| RUSSIAN 1896 BIBLE | Freeware, Public Domain |
| ITALIAN 1991 BIBLE | Freeware, Only for personal use |
| | |
| YOUNGS' LITERAL TRANSLATION | Freeware, Public Domain |
| HEBRAIC OT GREEK NT | Freeware, Public Domain |

MAPS

| | |
| --- | --- |
| BIBLE MAPS | Freeware - (More about maps further down) |


INSTALLATION OF BIBLE VERSIONS & BIBLE FACTS
THE INSTALLATION of the additional files is very simple.
1. Double-click on the downloaded file.
2. In the dialog-box that comes up, make sure it is written "C:\BIBLE MISSIONARY" in the uppermost field.
3. Click Unzip, or press the return-key.
4. Then start the program, and if needed go to the dialog-box "Skins" and state the versions you wish to use.
To speed up the download only one map is included in the Bible Missionary. Then there is a freeware package with copyright-free maps that can be downloaded and used in the program.
These packages will be extended as new suitable materials show up. Suggestions and contributions are welcome.
...

NOTE: The INTERNET EXPLORER (version 5.5 or higher) is needed for the Bible Missionary to work. If you don't have that program it can be fetched freely from here: http://www.microsoft.com/windows/ie/default.asp


BUG-REPORTS
BIBLE MISSIONARY is developed with Windows 98 and IE 5.5, and should therefore work best on that configuration. How it will work in other environments can vary since there are so many different operative systems and softwares installed on computers.
If the program can't be installed or won't work fully on your computer, send an email to: bibeltemplet.net
___



EXTERNAL BIBLE VERSIONS AND MAP SITES
FROM THESE WEBSITES you can download public domain bible versions and maps for personal use on your computer. They can then be used in the Bible Missionary. The maps only has to be imported to the "Maps" folder, while the translations have to be transformed to the Bible missionary format. If you don't konw how to to with the formats, send an email.

NOTE that big image files can be hard to manage for the computer processor. If you want your maps more managable, try to cut them up in smaller parts with an image-editing program.
___

HELP WITH DOWNLOAD / INSTALLATION

DOWNLOADING THE BIBLE MISSIONARY:
WHEN YOU HAVE CLICKED the download-link, a dialog box appears asking if you want to open or save the file. Chose to save it.
In the next dialog box, state that the file shall be saved to the Windows desktop.

INSTALLATION:
IF YOU HAVE an earlier version of the program it should be uninstalled first, with the Windows Control Panel / Install-Uninstall program.
When the download is completed, the next step (if your webreader doesn't let you open the directly) is to find the "BMSetup.exe" on the desktop and doubleclick it.
A dialog box with installation-alternatives will open. Chose "Bible Missionary", read the license agreement, and continue with the installation.
When the installation is finished you can go to the Windows Start/Programs and start the program from there.
It can also be started with the file BM.exe in the directory "C:\BIBLE MISSIONARY". If you prefer a shortcut on the Windows desktop, just pull the BM.exe from the folder to the desktop.
When you've seen that the program is working, the BMSetup-folder in Windows/TEMP can be deleted. The file you first downloaded to your desktop should be saved in a backup folder, or preferably on a private CD-disk.

REINSTALLATION/UNINSTALLATION:
IF YOU WISH TO UNINSTALL the program or reinstall it in another directory, first do the uninstallation with the Control Panel / Install-Uninstall program, so that all the files and registers get deleted properly.
(Additional and setup-files will not be deleted. Just move them to the new directory after or before the uninstallation.)

EMAILSUPPORT:
Should the download or the installation fail, you can send an EMAIL for direct help.
___
---
INSTALLATION IN WINDOWS XP
If you are using Windows XP or an operative system that is different from Windows 98, there might pop up a message like this when you run the installation program:

In that case you'll have to make some small adjustments.
First check that you've got the directory "windows" in "C:\". If you haven't got that directory, you need to create it. Go to "C:\" and create the directory "windows".
Then you have to find the file "SETUP.LST". Just open the Start-Menu and click on "Find". Then write "SETUP.LST" and press [Enter].
Mark the file which is in the "BMSetup" directory, and copy it to "C:\windows".
Run the installation again. If it doesn't work now, send me an email.
___


GUESTBOOK
- if you have questions about the program or want to leave a message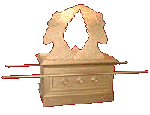 BIBLE TEMPLE
Website for Discipleship and Revival
___

© 2003-2006 - BIBELTEMPLET.NET. BIBLE MISSIONARY'S copyright is protected according to swedish and international law. It is not allowed to sell the program without permission. If you wish to purcase it for sale in a bookshop, contact bibeltemplet.net.